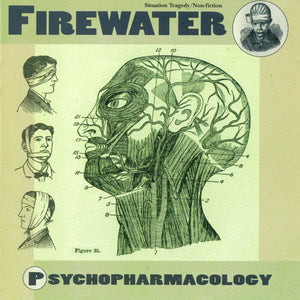 Psychopharmacology
Firewater
Psychopharmacology contains the requisite disgruntlement of a Firewater album, and all of angst-ridden underpinnings of testosterone-laced pop.
It's impassioned on subjects like the country's increasing reliance on Prozac and related substances ("Psychopharmacology"), and emotionally spiralling on that of establishment ("Woke Up Down").
But it's on songs like "7th Avenue Static," which contains the line "I'm a raging success as a failure" and sounds almost like a slow Pogues tune, and "The Man With the Blurry Face," which describes the criminal proportions anonymity can reach, that best demonstrate Firewater's ability to channel their demons to transcendant effect. Frontman Tod A is joined by Elysian Fields' Jennifer Charles for a flagrant but endearing duet on "Bad, Bad World," and the band is joined on various tracks by a cast of characters that include downtown saxophonist Ori Kaplan and sitar player Oren Bloedow.
Each one of the first eight tracks on Psychopharmacology is a pureblood home run.
—Pitchfork Media

It's a testament to the group that they can still make you want to sing along and tap your foot to songs about airplanes going down and being addicted to prescription medicine.
—Almost Cool

Sordid tales collected from the end of smoky bars from around the globe. Enthralling, sinister and audacious.
—SPIN