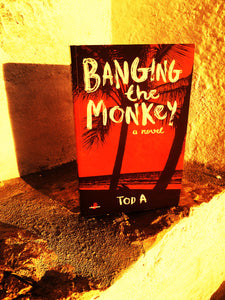 Banging the Monkey — a novel by Tod A
Firewater
Disaffected writer Mark O'Kane is in a downward spiral. His last novel tanked. His wife left him. And his drinking is out of control. So when a chance meeting with enigmatic businessman Frank Fochs leads to a cushy job on the tropical island of Madu, it sounds like Mark's salvation: he can finally write his comeback novel and set his life on a brighter path.

But when Frank disappears, Mark is left holding the bag for his boss's shady business dealings. And after a corpse washes up in the local lagoon, Mark may even be charged with Frank's murder. As he skirts the border between regret and desire, Mark discovers that the demons of his past are not so easily outrun, and that paradise comes with a price.
Banging the Monkey is for anyone who has ever dreamed of chucking it all and starting over. Debut author Tod A injects pulp noir with a punk prose rhythm to weave a darkly comic tale about life at the end of the American Century.
"Cleverly written and populated with consistently juicy characters." — David Yow
"A wry and richly written journey in a faraway climate, imbued with a tropical noir sensibility ... Thoroughly engaging." — Alex Smith