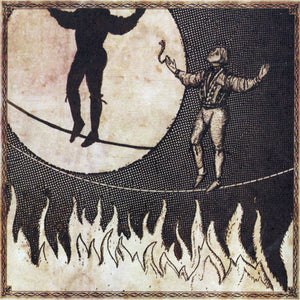 The Man on the Burning Tightrope
Firewater
Not so much a theater of the absurd as a carnival of the ridiculous. This tragicomic mix of circus and cabaret, coupled with the band's typically sardonic, world-weary rock, makes this their most ambitious and atmospheric album. A crazy, woozy trip through the upper reaches of the big tent. Imagine yourself swaying between the poles on a trapeze.
It's after a few listens that you realize worldly rhythms fill nearly every nook and cranny of The Man on the Burning Tightrope. 'The Dog and Pony Show' works itself into a Klezmer lather, and 'Too Much (Is Never Enough)' sounds like it should be coming out of some South American cantina. 'Dark Days Indeed' uses castanets to launch into a forceful tango, while 'Ponzi's Revenge' comes across like a mix of the Dragnet theme song and a Tito Puente workout.
— PopMatters


Take one small portion Beck, one big part Tom Waits, one part Nick Cave, one part carnival, and a whisper of swing. Place in blender with plenty of ice, a dose of political commentary, and a jigger or ten of whiskey. Drink it down and enjoy it.
— Maelstromzine


A wonderful balance of garage rock, swing, jazz, gypsy, country, and circus calliope, resulting in bizarre vignettes about murder, suicide, love, prostitution, being sad, and being drunk that could be performed just as easily on a smoky night club stage as at a really twisted bar mitzvah.
— Cosmik Magazine

Another gem... a circus nightmare like Mr. Kite on a bad acid trip. Play it for your friends, under hot lights if you want them to confess deeply held secrets. Full of hope and optimism, if you're looking forward to falling into a spiraling inferno. A rock'in 3 ring punk klezmer celebration of doom, interspersed with burlesque, t.v. themes for shows too dangerous to air, and drunken carousel rides.