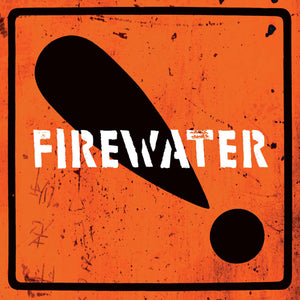 International Orange
Firewater
After three years of touring and world-wandering in the wake of 2007's The Golden Hour, Firewater ringleader Tod A finally touched down in Istanbul, Turkey. "The city is fascinating. It's a melting pot—a lot like NYC," Tod says of his new hometown.
"And with the revolutions going on all around, I knew we should record here." International Orange!, produced by Tod A and mixed by Tamir Muskat of Balkan Beat Box, carries on from where their previous collaboration, The Golden Hour, took off, slipping across new borders into uncharted territory. Created in Istanbul and Tel Aviv during the 2011 Arab Spring, this release captures the frenetic pulse of a world in the state of flux. International Orange! continues in the proud Firewater tradition of cultural and stylistic mash-ups. High-energy Turkish percussion drives jagged guitars and horns on eleven anthems of frustration and hope, movement and transformation.
The songs tap into grooves as disparate as Turkish maqsoum, Punjabi bhangra, Jamaican ska, Greek rebetiko, classic punk and old-school mambo. Muskat's mixing aesthetic draws on everything from the Bollywood excess of '60s-era R.D. Burman to the early dub experiments of King Tubby. Yet the team manages to meld all these flavors into a cohesive whole, as only they can do. Tod A's lyrics are as poetic and playfully acerbic as ever. "Ex-Millionaire Mambo" tosses caustic jibes at the architects of the 2009 financial crisis: "It's tough to be chic when you live in a cardboard box." "A Little Revolution" draws on the frustration of a generation with limited options and even fewer outlets: "Got no job and got no cash / going nowhere and going fast." And "Up From The Underground" warns of the imminent sea-change just around the corner: "You can beat us up, but you can't beat us down." But through all the black humor runs a current of genuine positivity. "I like the fact that, during the so-called 'flotilla crisis' between Turkey and Israel, Turkish and Israeli musicians were collaborating on this record," Tod says. "It's a step in the right direction. Even when governments can't seem to get along, there can still be hope for the rest of us."

From the Turkish percussion and Middle Eastern woodwinds to the Mexican banda, ska, and salsa disparate influences blend seamlessly from track to track, all layered beneath Ashley's distinctive snarl.
— Alarm Magazine


Mr. A's an excellent singer and a masterful arranger, and the songs found here are jaunty, upbeat, and occasionally funny. But don't feel too comfortable; the happy feelings cover up a dark, dark heart.
— Big Takeover


Bad times can make for good art, and the revolutionary feel of the early 2010s — the Occupy movement, and especially the Arab Spring — are at the heart of Firewater's International Orange! Firewater frontman Tod A. recorded this album in Istanbul and Tel Aviv during the 2011 riots, and there's a vital energy in these songs that is almost palpable. Even better, the sense of humor that was downplayed on the band's previous few albums is back in full force, giving the album's first half a bright, buoyant theatricality suggesting that International Orange! could be a musical about those tumultuous times.
— iTunes


Using anything but mainstream methods to create their music, many of the songs off of International Orange remind me of Joe Strummer's albums with the Mescaleros. If you dig music that follows its own path straying away from the schlock most radio stations jam in your ears these days then this album is for you.
— Examiner


Slinky, sexy numbers are roaring from my headphones right now. Infused with the sounds of shouting crowds erupting from behind the songs, this is the audio equivalent of curry and cinnamon. With crashing cymbals and red hot horn sections, this makes you want to move and run around and skank about and go a little furious.
— Vancouver Weekly