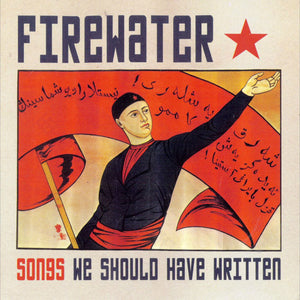 Songs We Should Have Written
Firewater
An homage to a collection of songs that, in one way or another, dented Firewater main man Tod A's brain.
Liner notes include commentary by Tod explaining why he was drawn to all these tunes.

From Sinatra ("This Town") to Johnny Cash ("Folsom Prison") to Robyn Hitchcock ("I Often Dream of Trains"), Tod's journey through music is emblematic of an artist never knowing how or why long ago exposures will turn up in his music.

You'll be surprised at what the band does to these selections, some well known others not soo much (like "Paint It Black" being turned into creepy crawly raga or the sunny pop of Sonny and Cher's "The Beat Goes On" turning ominious and, weirdly, way more gratifying).

Some daring and inventive deconstruction and reassembling.
Here, they hang loose, have fun... and snarl and swing and pound like they haven't since their first record.
The band is never timid in their approach, and the record as a whole is a heartening loveletter to the icons who helped shape Firewater's rowdy and eclectic sound.
— SPIN


Here, they hang loose, have fun... and snarl and swing and pound like they haven't since their first record.
— Dusted


Finally, a covers album worth listening to.
— Alternative Press